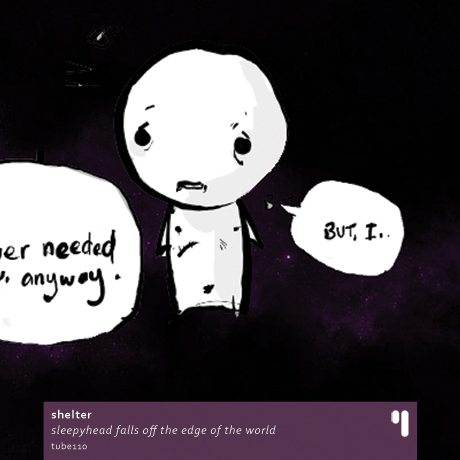 Test Tube #110: Shelter - Sleepyhead falls off the edge of the world

Comment from Test Tube-Site:

«'Sleepyhead falls off the edge of the world' is a hip-hop mini-epic for all the broken hearts out there. Love stories gone wrong... not you're typical theme for an hip-hop release, I guess... but Shelter makes it work really really well. 'Sleepyhead...' is a small gem of an EP, in fact, it's a reissue of the original which came out on Shelter's old weblog more or less an year ago. I kind of bumped into it by accident and almost immediately 'Sleepyhead...' became a regular on my winamp playlist since then. Musically, think of BoC-style nostalgia keyboards and electronics and Marshall Mather's style vocals and flow, but Swedish pop way - Shelter is from Sweden, and you're there. Excellent production, very good lyrics and an awesome sense of narrative throughout. This is the most perfect 20 minutes of hip-hop I've listened in a long time.
This release is also a good excuse to show off our new standard design for the cover artwork. Hope you dig it! Furthermore, keep your eyes peeled for a new EP to be released very soon on Shelter's own website.» - Pedro Leitão
Comment from Stratosphera:

Ok, this is special for Stratosphera. Hip-Hop isn't usual for this blog, as all you watchers know. But what made Stratosphera review this album is it's poetic side, as Pedro wrote before, this is a album about love an d getting emotionally hurted by people. It's just beautiful so sit back, relax and open your mind.
Intro / We like falling (feat. Balance) / Into the fog / Rhythm of the night (feat. Balance) / Keys open doors? (interlude) / What's underneath / My knee's weak / Sunny eyes (interlude) / The Swamp /Outro
get
.zip
Kikapu #108: William Fields - The Ruby-leif
Comment from Kikapu (Archive.org):
We have here an amazing new mp3 release from William Fields, titled 'The Ruby-Leif.' It's a 5-track EP of incredibly melodic, beautiful electronics. It harkens back to many of our older releases from past years, and is a welcome addition to our catalogue.
Comment from Stratosphera:

First listening to this album I was quite astound. Clearly melodic, clearly experimentel, clearly veautiful but also abstract - I never thought a mix-up like this would work, but William made it work. A first-class audio experience!
Sunwire / Hakea/ Umber / Cairn / The Ruby-Leif
->Everything here